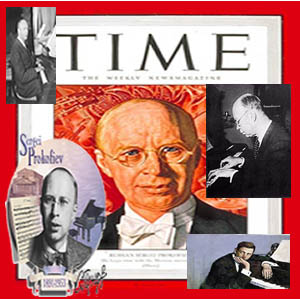 Sergei Prokofiev is often considered one of the Soviet Union's greatest composers of all time. He was born in April 27, 1891 in Ukraine, Russia. He was an only child. His mother is a pianist. His father is a successful architect.
Prokofiev displayed uncommon musical abilities at an early age. In 1902, Prokofiev takes private lessons in composition even though he has already produced a number of pieces.
Prokofiev showed gifted talent as both a pianist and composer. In 1904 he entered the St. Petersburg Conservatory. The quality of his early piano pieces attracts attention from his teachers. His teachers include other famous composers of the time including Rimsky-Korsakov.
In 1914 Prokofiev leaves the conservatory and travels to London. He meets Sergei Diaghilev, the creator of the Russian ballet company, "Ballets Russes" who gives him a job.
In 1938 Prokofiev writes the full-length ballet "Romeo and Juliet" based on the play by William Shakespeare.
Prokofiev is also famous for composing classic pieces including "Peter and the Wolf" and "Cinderella". While writing the ballet Cinderella, he also started working on the opera, "War and Peace". This opera was based on Leo Tolstoy's novel of the same name.
In 1948, His wife Lina tries to send money to her mother in Spain. She sends it through Spanish embassy so no one would know. She is caught and is arrested as a spy. She is sentenced to 20 years. She is eventually released after the death of Joseph Stalin.
Sergei Prokofiev dies on March 5, 1953, the same day as Joseph Stalin's death.