Toscanini
Buddy Holly
Chubby Checker
Dylan
Elvis Presley
James Dean
Johnny Ray
Liberace
Prokofiev
Punk Rock
Rock Around the Clock
Woodstock
Walter Winchell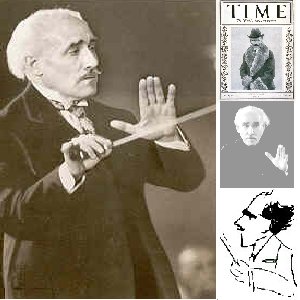 Arturo Toscanini was born in the city of Parma, Italy on March 25, 1867. He was the oldest of four children. He won a scholarship to Parma's Royal School of Music. He graduated at eighteen with honors in cello and composition. The following year, he became the first chair cellist in an Italian opera company. He also assisted as chorus master. One evening, he had to replace the regular conductor. At age 19, he began his career as a conductor. He was considered by many to be the greatest conductor of his era. He was known for his perfectionism and his amazing ear for musical detail.
He continued to play cello. But his reputation as an operatic conductor of great skill slowly grew. During the next 10 years, he conducted many world premieres in Italy. In 1896, he conducted his first concert at Turin. By 1898 he was the conductor at the one of the world's most famous opera house,La Scala, in Milan. Toscanini made changes in opera performances. He began to use a modern stage lightning system and an orchestra pit. He insisted on darkening the lights during performances. He believed that performances could not be successful unless all the singers, orchestra, chorus, staging, sets, and costumes were in harmony.
Toscanini conducted the world premieres of many operas in Italy, South America and the United States. At the 1937 Salzburg Festivals, he gave his final performance of complete operas. In 1938, he left Salzburg for political reasons. He went to Switzerland where he helped to create the new Lucerne Festival. But his greatest political action was when he conducted a new orchestra in Palestine. This company was made up largely of Jewish refugees from Central Europe.
He retired from the New York Philharmonic and began conducting a new orchestra for a weekly NBC radio broadcast. He lived in the U.S. during the Second World War and returned to Milan, Italy in 1946. He stayed there to help reconstruct La Scala. The opera house in Milan had been heavily damaged when it was bombed in the war in 1943.
Arturo Toscanini retired on April 4, 1954 after conducting for 68-years. He was 87 when he retired. Toscanini died at his home in Bronx, New York on January 16, 1957.