Toscanini
Buddy Holly
Chubby Checker
Dylan
Elvis Presley
James Dean
Johnny Ray
Liberace
Prokofiev
Punk Rock
Rock Around the Clock
Woodstock
Walter Winchell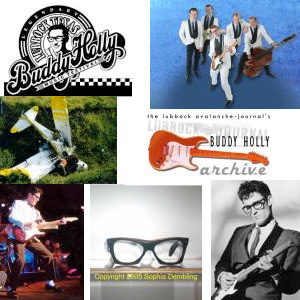 Charles Hardin (Buddy) Holly was born September 7, 1936 in Lubbock, Texas the fourth of four children born to Lawrence and Ella Holly. In Texas most everyone had a nickname, and the family always called him "Buddy." The Holly family had a rich musical tradition. Older brothers, Larry and Travis, taught themselves how to play the guitar. Their sister Pat sang duets with her mother in the evening at the living room piano.
Lubbock "The City of Churches," was conservative and segregated. In his youth, Holly had little direct contact with blacks or their music, but like so many other young musicians, he was attracted to the rhythm and blues heard on distant radio stations.
At age eleven Buddy began taking piano lessons, but soon switched to the steel guitar After 20 lessons he switched to acoustic guitar. Although his formal music education was short, Buddy was familiar with many kinds of music. Thoroughly imbued with the blues and country sounds he heard on the radio at a early age, Buddy won five dollars at age five singing "Down the River of Memories" at age five.
In 1951 Buddy met Bob Montgomery, a fellow seventh-grader at Hutchinson Jr. High, who also played guitar and sang country songs. Montgomery's taste in music ran to country music, especially Hank Williams, and Montgomery would be a major influence over Buddy's choice of music.
In the early fifties with high school friends he played in a country oriented Western and Bop Band. Between 1950 and 1952, they performed at local clubs and high school talent shows, sometimes adding a bass and, less frequently, drums.
Late 1958 brought a slow period in Holly's career. In October, he decided to move to New York City. Allison and Mauldin wanted to stay with Norman Petty in Clovis. Holly agreed to break up the Crickets and go solo. However, in January 1959, Holly was accompanied on a tour by Allsup, bassist Waylon Jennings, an old Lubbock friend who became a country music star, and drummer Charlie Bunch. Promoters falsely billed them as the Crickets.
After a February 2 show in Clear Lake, Iowa, Holly and his band, along with Ritchie Valens, and J. P. (the Big Bopper) Richardson, were to take a tour bus on a 430-mile trip to Moorhead, Minnesota, but Holly chartered a plane to fly him and his band to Fargo, North Dakota, near Moorhead. Jennings and Allsup gave up their seats to Richardson and Valens. The red Beechcraft Bonanza, named "Miss American Pie," took off from Mason City, ten miles east of Clear Lake, at around 1:50 AM on February 3, 1959. The weather was cold and snowy. The plane crashed just after taking off, eight miles from the Mason City airport. The pilot, Valens, Richardson, and Holly, who was found twenty feet from the point of impact, died. Shortly following Holly's funeral in Lubbock, his pregnant widow, Maria, had a miscarriage. The last Buddy Holly single, "It Doesn't Matter Anymore," with "Raining in My Heart" on the reverse side, which had been released a few weeks earlier on January 5, hit the Top 10 on the day of the crash.