Toscanini
Buddy Holly
Chubby Checker
Dylan
Elvis Presley
James Dean
Johnny Ray
Liberace
Prokofiev
Punk Rock
Rock Around the Clock
Woodstock
Walter Winchell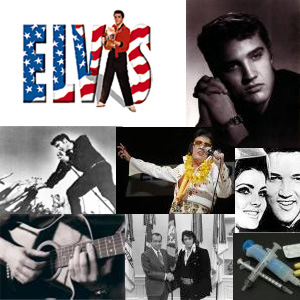 Elvis Aaron Presley, a man who at the age of twenty-one, he became the world's first modern superstar. Elvis was born to Vernon and Gladys Presley in East Tupelo, Mississippi on January 8, 1935. Later moved to Menphis, Tenesse where he graduated from Humes High School in 1953. The gospel music he heard in church and at the all-night gospel sings he frequently attended, he absorbed on historic Beale Street as a Memphis teenager. In 1954, he began his singing career with the legendary Sun Records label in Memphis. In late 1955, his recording contract was sold to RCA Victor. By 1956, he was an international sensation.
Elvis Presley was not an ordinary young man. His achievements were beyond his expectation. With his musical influence, he challenged the social and racial barriers of the time. A whole new era of American music and popular culture. It is estimated that Elvis Presley has sold over one billion record units worldwide, more than anyone in record industry history. Elvis Presley's trophy room at Graceland is filled with gold and platinum records and awards from around the world. According to Rolling Stone magazine, some of the countries represented are: Norway, Yugoslavia, Japan, Australia, South Africa, England, Sweden, Germany, France, Canada, Belgium, and the Netherlands.
Elvis was not only a singer who revolutionized American Pop culture. For a number of years Elvis was one of Hollywood's top box office draws and one of its highest-paid actors. He starred in 31 feature films as an actor, and two theatrically released concert documentary films, all of which enjoyed financial success. His two most critically acclaimed films; Jailhouse Rock (1957) and King Creole (1958) have become classics of their era. At the age of 36, Elvis received 14 Grammy nominations from the National Academy of Recording Arts and Sciences (NARAS). In addition, The United States Junior Chamber of Commerce (the Jaycees) named Elvis Presley One of the Ten Outstanding Young Men of the Nation for 1970 in a ceremony on January 16, 1971, one of Elvis' proudest moments.
In 1985, Elvis and Me book, his wife Priscilla wrote that "Elvis suffered from severe insomnia and by 1962 when she moved to Graceland he was taking Placidyls to get to sleep and began to do so in ever increasing doses." Though, Elvis abused prescription drugs. After two generations of rock 'n' roll fans, Elvis Presley die in Memphis Tennessee at the age of 42 on August 17, 1977