Toscanini
Buddy Holly
Chubby Checker
Dylan
Elvis Presley
James Dean
Johnny Ray
Liberace
Prokofiev
Punk Rock
Rock Around the Clock
Woodstock
Walter Winchell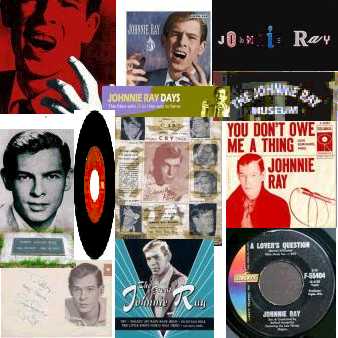 Johnnie Ray was born on January 10, 1927, at a farm house just a few miles from Hopewell, Oregon. When he was 13 years old, he attended a Boy Scout Jamboree with troops all over the Pacific Northwest. Johnnie was envied by a lot of the boys for his musical talents. During the Jamboree, he was tossed in the air by a blanket held by fellow Boy Scouts. The boys holding the blanket lost their grip or let go and Johnnie slammed into the concrete ground where a straw rammed into his ear. Johnnie immediately lost 50% of his hearing, no first aid was given, and 13-year old Johnnie didn't mention it to his parents, thinking it would pass. But it didn't.
At the age or 14, Johnnie moved to Portland, Oregon, where it seemed to be the place for Johnnie. Portland had radio stations, theatres, nightclubs, beer joints and dance halls. Johnnie became involved with youth dances sponsored by the Starlight Club at the Y.M.C.A. while attending Franklin High School.
One weekend in 1947, Johnnie drove to see Kay Star live and managed to meet her. She insisted that Johnnie pursue show business because he had many talents. Shortly after he moved to Hollywood and then on to Detroit, Michigan, Johnnie was welcomed at the all black "Flame Show Bar" around 1950. This was despite the racial tensions, bigotry, violence and hatred.
As the only white performer at the Flame, Johnnie Ray exhibited his ability to be a blues singer performing "Whisky and Gin", "Pretty Eyed Baby", "Tell the Lady I said Goodbye" among others. Johnnie Ray sang along with some of the greatest singers of his time, including LaVerne Baker, and those who later found greater success. Johnnie was 23 when his actual singing career took off. Many agents wanted to sign Johnny but he was still under contract exclusively with Flame Show Bar by a signed agreement with Al Green.
Overcoming great odds, including his hearing loss from the childhood incident, Johnnie Ray wore his hearing aid in his left ear to help in the difference of hearing loss. Johnnie wore his trademark hearing aid up until his death in 1990.