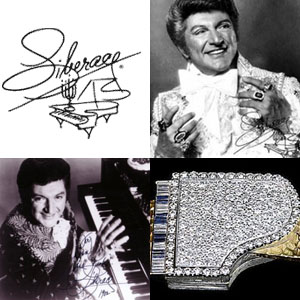 Wladziu Valentino Liberace was born on May 16 1919 in West Allis, Wisconsin. He had a twin who died at birth. He was best known by the stage name of Liberace, and was known to his friends as Lee. He was a very charming American entertainer and a homosexual.
Liberace grew up in a musical family. He was trained as a classical pianist. He gained wide experience playing other popular music. His success came from mixing popular and classical music together. Once he started performing he would take the advice of a family friend and call himself by his last name only.
In 1940, he began to play as an intermission pianist at the New York Plaza Hotel. He went on to play other dinner clubs and nightclubs in major cities around the United States in the mid to late 1940s. In 1947 he returned to New York as the Liberace the public would soon know.
In the early 1950s, he was discovered by a television producer. Liberace would go on to star in his own network television program. The show was only planned as a summer replacement for another show, but it became a hit. The show even had higher ratings than "I Love Lucy" for a short time. This television show helped make Liberace a well known public figure. He became associated with flashy costumes and a silver candelabrum (a decorative holder for one or more candles, often shaped as a column or pedestal) which was always perched on his piano. Liberace also earned two Emmy awards for the show.
In 1953, Liberace played a sold out show at Carnegie Hall in New York. Later that year, he made a record breaking appearance before 16,000 people at Madison Square Garden. He would continue this trend by packing an over capacity crowd into the Hollywood Bowl. The most amazing was yet to come, however, as he packed 110,000 people into Chicago's Soldier Field. In 1955, he opened in the Las Vegas Riviera Hotel as the highest paid entertainer in the city's history. He demanded and got $50,000 per week. By this time he had over 160 official fan clubs with a quarter of a million members. In 1960 he received a star on the Hollywood Walk of Fame.
Liberace returned to daytime television in 1960s and 1970s with guest roles on shows such as "Batman," "Here's Lucy," and "Kojak." During this time he would also play shows abroad. He played in both Europe and Australia. In 1972, he wrote his best-selling autobiography, "Liberace."
Towards the end of his career Liberace continued to sell out shows. He played mostly in Las Vegas and Lake Tahoe from 1975 until 1986. In 1977 he founded a non-profit foundation for the arts. This foundation gave scholarships for schools across the nation. On April 15 1979, Liberace opened "The Liberace Museum" in Las Vegas. The museum showed off his extravagant jewelry and stage costumes from his career. The museum served as the main way of funding his non-profit foundation.
In the spring of 1984 Liberace's first concert at New York's Radio City Music Hall broke all records for the 51 year old hall. More than 80,000 people showed up for this performance. Liberace's final performances were also at Radio City Music Hall. These shows were from October 16 until November 2 1986. Shortly after his final shows at Radio City Music Hall, he went on a four city tour to promote his newest book.
Liberace died shortly after returning home from the book tour. He passed away at 2:05 PM on February 4 1987. Liberace was 67 years old.