Toscanini
Buddy Holly
Chubby Checker
Dylan
Elvis Presley
James Dean
Johnny Ray
Liberace
Prokofiev
Punk Rock
Rock Around the Clock
Woodstock
Walter Winchell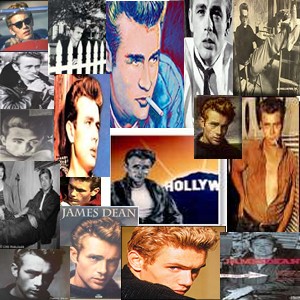 He came from a small town in the Midwest to the large city life of Hollywood Hills, California. James Dean was a true rebel at heart. His story is one that you will never forget.
James Byron Dean was born February 8, 1931, in Marion, Indiana. His father, Winton was a dental technician. His father moved the family to Los Angeles when James was five years old. James returned to the Midwest after his mother, Mildred, passed away from cancer in 1940. He lived with his aunt and uncle on their Indiana farm. While he was in high school James was on the basketball team, the forensics debate team and in the drama club.
James Dean graduated from Fairmount High School in 1949. He then returned to California to live with his father and stepmother. He went to school at Santa Monica Junior College for a year, as a pre-law major. He then transferred to UCLA in the fall of 1950, and changed his major to drama. James also joined Sigma Nu fraternity.
James Dean began acting in James Whitmore's acting workshops. Occasionally, he appeared in television commercials. His first commercial was a Pepsi advertisement. He played several roles in films and on stage. In the winter of 1951, he moved to New York to pursue his acting career. He appeared in seven television shows. He returned to Los Angeles in February of 1952. In March, James celebrated his huge success by buying his first Porsche and entering in the Palm Springs Road Races. That same month he began shooting "Rebel Without A Cause". In May, he finished shooting the movie and raced at Bakersfield. He entered one more race, in Santa Barbara, before joining the cast and crew of "Giant" in Marfa, Texas.
James Dean had one of the most spectacularly brief careers of any screen star. In just over a year he was in three movies: East of Eden (1955), Rebel Without a Cause (1955), and Giant (1956). Although, he'd had only one movie released, James was widely admired by the public. Sadly, on his way to compete in a race in Salinas, James Dean was killed in a highway accident on September 30, 1955. He was 24 years old. Ironically, just 2 hours before he died he received a speeding ticket.
James Dean is buried in Park Cemetery in Fairmount, IN. He was nominated for two Academy Awards, one for his performance in "East of Eden" and the other for "Giant."