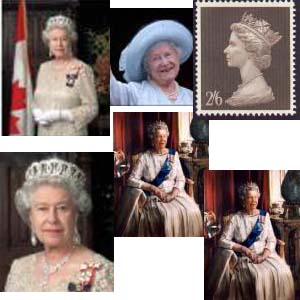 Queen Elizabeth was born in London on April 21, 1926, first child of the Duke and Duchess of York, subsequently King George VI and Queen Elizabeth. Five weeks later she was christened in the chapel of Buckingham Palace and was given the names Elizabeth Alexandra Mary Windsor. She was education at home in her early years and her studies were extended once her father took the throne.
At the time of her birth she was third in line of succession to the crown, behind her father and her uncle. In 1945, she convinced her father to let her contribute to the war effort. She joined the Auxiliary Territorial Service where she trained as a driver. She was the first female member of the royal family to service in the military.
In 1947, Princess Elizabeth married Philip Mountbatten her 4th cousin, they had for kids, Prince Charles, Princess Anne, Prince Andrew and Prince Edward.
The Queen ascended the throne on February 6, 1952; after her father died of lung cancer. Her Coronation followed on June 2, 1953. At the time of her succession she and Philip were out of the county. After the Coronation, Elizabeth and Philip moved to Buckingham Palace in central London. It is believed, however, that like many of her predecessors she dislikes the Palace as a residence and considers Windsor Castle, west of London, to be her home.
Queen Elizabeth is the most widely traveled head of state in history. In October 1957, she made a state visit to the United States and toured Canada. Opened the first session of the 23rd parliament. In 1959 she made a tour of Canada; she took a state visit to the United States as Queen of Canada, hosting the return dinner for then US President Dwight D. Eisenhower at the Canadian embassy in Washington. She regularly attends Commonwealth Heads of Government meetings.
Despite a series of controversies about her family, the Queen Elizabeth remains a remarkably uncontroversial figure and is generally well-respected by the people of her Realms. Elizabeth remains a highly respected head of state. Elizabeth's political views are supposed to be less clear-cut (she has never said or done anything in public to reveal what they might be). She preserves cordial relations with politicians of all parties.
Constitutionally, the Queen is an essential part of the legislative process of her Realms. The Queen-in-Parliament (the Queen, acting with the advice and consent of Parliament), in each country, is an integral part of Parliament, along with the upper and lower houses. In practice, much of the Queen's role in the legislative process is ceremonial. As her reserve powers are rarely exercised. She also holds the positions of Head of the Commonwealth, Supreme Governor of the Church of England, and Lord of Mann.