Rock and roller cola wars
Television
Wheel of Fortune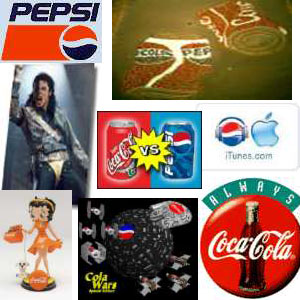 Coca-Cola and Pepsi have long been adversaries. Actually, in the year 1933, Coca-Cola missed an opportunity to buy out a then tiny competitive company, Pepsi was later bought by Roger Enrico. The war between Coca-Cola and Pepsi was a different kind of battle. It played out in the national media marketplace, probably getting its highest ratings when Pepsi hired pop star Michael Jackson to appear on its television commercial, launching the cola company into a behemoth giant and a formal competitor.
In 1886 Coca-Cola first became a product. Named after the coca leaves and kola nuts it was first developed and marketed by John Pemberton. Caleb Bradham was the early developer of the Pepsi brand in the year 1898. Both colas had their growing pains. Pepsi went bankrupt but didn't lose its cool and battled on; Coca-Cola changed its recipe and brought out New Coke in 1985, which was so unpopular it nearly brought Coca-Cola to an end.
Over 100 years later, after changing secret recipes, and employing star after star for special advertising campaigns, the two beverage companies continue their wars to attract young, hip consumers on a worldwide basis.